The Marsh ENsign range sewage treatment plants provide a discreet, reliable and affordable solution to sewage treatment for domestic dwellings and commercial premises without access to mains drainage.
Providing a safe environment for the collection and treatment of waste water, the ENsign sewage treatment plant produces a clear, odourless treated effluent suitable for discharge direct to a ditch, stream, or river. The treated effluent is also suitable for discharge into an underground soakaway / drainage field.
The ENsign is a single tank system which is installed completely below ground and uses Aeration Technology incorporating a biozone for the growth of aerobic micro-organisms which degrade the sewage.
ENsign Benefits
EN 12566-3 tested and approved;
CE-marked;
Minimal visual impact on surroundings;
Low energy consumption;
Low maintenance requirements;
Available with ether pumped or gravity outlets.
The Scientific Principle
There are three treatment zones within the single ENsign tank structure.  The first zone is a primary settlement chamber where solids and floating material are retained.  The liquids pass through to the second chamber, which is an 'aeration' chamber.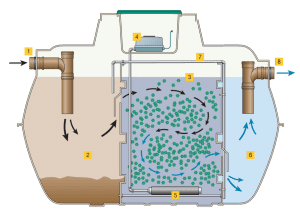 Central to the operation of the ENsign sewage treatment plant is the aeration chamber.  Within the aeration chamber aerobic micro-organisms develop through the use of fine bubble aeration and floating plastic media.  This aeration process provides an extremely robust means of treating sewage, especially for reducing Ammoniacal Nitrogeon.
The third chamber is a final settlement zone where fine solids are separated and returned automatically to the first chamber using a recirculation airlift.  The treated liquid is then discharged from the system via the tank outlet.
The only electrical component for the ENsign system is a small air compressor (excluding pumped outlet systems).
Selecting the right ENsign system
ENsign sewage treatment plants are available in population equivalents of (PE) 6 – 50.  When sizing a new sewage treatment plant the British Water Flows & Loads Code of Practice should be used.  This Code of Practice provides the information required to ensure the correct size of treatment plant is installed.
Supply & Installation
For further assistance and advice on selecting the appropriate ENsign sewage treatment plant, contact us on 01255 853890 or complete the form below.