Marsh Sewage Treatment Plant Problem & Solution
Marsh Sewage Treatment Plant
Horsham, West Sussex, RH13
Dry, Poor Ground drainage
Sewage treatment plants in Sussex are becoming more popular with homeowners as they provide a modern alternative to septic tank systems. As leading independent installers and service providers for sewage treatment plants in Sussex, Mantair is ideally placed to provide Sussex homeowners with a sewage treatment plant to meet their site requirements, or provide the expertise required for assessing septic tank problems.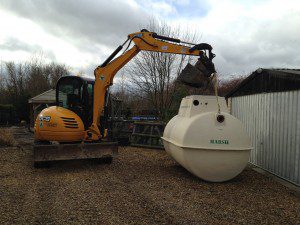 We were contacted by the owners of a property in Horsham, West Sussex, who wanted to upgrade a failing septic tank.  The ageing septic tank had been causing problems for several years and the homeowners wanted to replace the tank with a modern sewage treatment plant.
After conducting a detailed survey of this Sussex property, Mantair engineers recommended the installation of six-person Marsh packaged sewage treatment plant; this being in accordance with the British Water Flows and Code of Practice for sizing small sewage treatment plants.
Prior to any ancillary works commencing, Mantair engineers scanned the proposed location for the sewage treatment plant and areas where any excavations were taking place to ensure that no underground services were present.
As part of the project we liaised with the Environment Agency and the local Building Control department to obtain the relevant approvals for the installation.
As with all sewage treatment plant installations Mantair conducts, the Marsh sewage treatment plant was installed with a concrete surround to protect the structural integrity of the tank.  An independent RCD protected power supply was installed from the property to the air blower kiosk, with the relevant NICEIC Certification being obtained.
The quality of effluent discharged from the Marsh sewage treatment plant is clean enough to drain directly into a natural watercourse, and at this location in Sussex we discharged the treated effluent into a roadside ditch.  With the drainage from the property being deeper than the depth of receiving ditch it was necessary for the sewage treatment plant to have a 'pumped' outlet.
On completion of the ancillary works, Mantair engineers commissioned the Marsh sewage treatment plant, including setting of air valves, checking all pipe work joints and viewing the discharge into the roadside ditch.
All machinery was removed from site with the garden being left in a neat and tidy manner.
Operating throughout all of Sussex and surrounding Counties, Mantair are well placed to provide homeowners with a septic tank or sewage treatment plant installation service.  Mantair provides a comprehensive service, including free site inspections, guidance and advice on the most suitable system, complete installation, commissioning and full after sales care.
If you would like a Mantair engineer to visit you regarding an existing septic tank problem or sewage treatment plant installation in Sussex, please fill out the form below and we shall contact you.