Tricel Sewage Treatment Plant Problem & Solution
Tricel Sewage Treatment Plant
Wendover, Buckinghamshire, HP22
When the owners of a property located on the outskirts of Wendover in Buckinghamshire were advised by the Environment Agency that their septic tank was illegally discharging into a watercourse, they called on the services of Mantair to provide a solution.
As with all enquiries of this nature, we arranged for an engineer to attend site and carry out an inspection of the existing drainage arrangements and site conditions.  Due to the ground conditions being unsuitable for a soakaway system it was necessary for the discharge to the watercourse to continue.  With the existing septic tank being unsuitable for the installation of a Mantair septic tank conversion unit, it was necessary to install a packaged sewage treatment plant, which would produce a treated effluent in compliance with the Environment Agency's.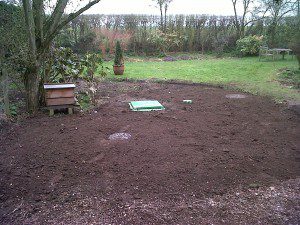 With the property having five bedrooms, we recommended, in accordance with the British Water Flows and Loads Code of Practice, the installation of an eight person sewage treatment plant.  To ensure the visual impact to the garden was kept to a minimum we installed a Tricel sewage treatment plant with remote Beehive blower housing.
Prior to any ancillary works commencing, Mantair engineers scanned the proposed location of the new sewage treatment plant and areas where any excavations were taking place to ensure that no underground services were present.
As part of the project we liaised with the Environment Agency and the local Building Control department to obtain the relevant approvals for the installation.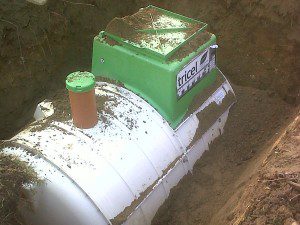 The scope of the installation works included:
Exposing the existing foul drainage pipe work and diverting to the location of the new Tricel sewage treatment plant;
Installation of the sewage treatment plant in a suitably sized excavation, including for a concrete base and backfill;
Locating the air blower within a Beehive blower housing – a purpose built housing designed to blend into the natural surroundings;
Provision of an RCD protected power supply to the Beehive housing;
Installation of the air main from the air blower to the Tricel sewage treatment plant;
Installation of a new 110mm diameter discharge drain to the roadside ditch;
On completion of the ancillary works, we commissioned the Tricel sewage treatment plant, including setting of air valves, checking all pipe work joints and viewing the discharge into the final discharge chamber.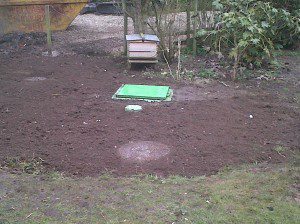 All machinery was removed from site with the garden being left in a neat and tidy manner.
Mantair provides a comprehensive septic tank and sewage treatment plant service throughout Buckinghamshire. This includes free site inspections, guidance and advice on the most suitable system for the client's requirements, complete installation, commissioning and full after sales care.
If you would like a Mantair engineer to visit you please fill out the form below or contact us on 01255 853890.
See a Mantair sewage treatment system installation on Channel 4 Grand Designs
http://www.channel4.com/programmes/grand-designs/on-demand/35806-005