Marsh Sewage Treatment Plant Problem & Solution
Marsh Sewage Treatment Plant
Sewage treatment plants are becoming the preferred choice for homeowners in Berkshire as they provide a modern alternative to septic tank systems for areas without access to "mains drainage". As leading independent installers for sewage treatment plants in Berkshire, Mantair has been providing clients a professional service for over 25 years, with all projects being carried out in accordance with Regulations.
In recent years we've seen an increase in septic tank replacements due to more stringent regulations surrounding the use of septic tanks. This increase has partly been due to DEFRA and the Environment Agency introducing the "General Binding Rules" in January 2015. Click here for further information on the General Binding Rules.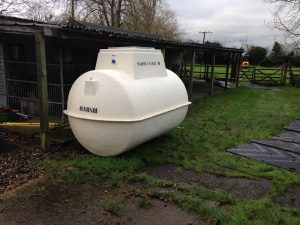 At this property in Windsor, Berkshire, we were contacted by a homeowner who was having a house extension and had been advised by a local Building Control Inspector that the existing septic tank was not suitable for the increase in size of the property. It was agreed that a Mantair engineer should attend the property to carry-out a site inspection and advise of the most appropriate solution.
After conducting a site inspection, we recommended replacing the septic tank with a Marsh ENsign sewage treatment plant, which would produce a 'treated' effluent suitable for discharge to the nearby ditch.
Based on the property having four bedrooms and in accordance with the British Water Flows and Loads Code of Practice – 4, a six-person Marsh system was recommended for installation.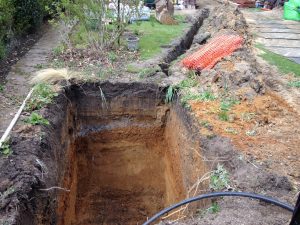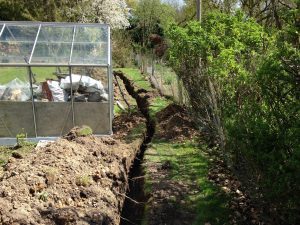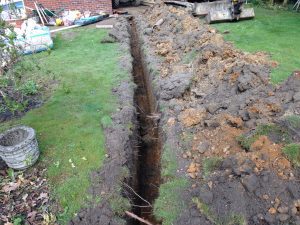 The Marsh ENsign sewage treatment plant is a 'single tank' system using a three stage treatment process. Central to the operation of the Marsh system is the aeration chamber. Within the aeration chamber aerobic micro-organisms develop through the use of fine bubble aeration and floating plastic media. This aeration process provides an extremely robust means of treating sewage, and provides an ideal solution for septic tank replacements.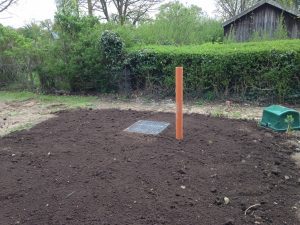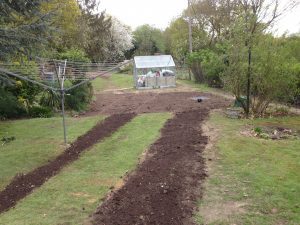 The scope of the installation works included:
Exposing the existing foul drainage pipe work and diverting to the location of the Marsh ENsign sewage treatment plant;
Installation of the Marsh system in a suitably sized excavation, including for a concrete base and back-fill;
Locating the air blower within a remote blower housing;
Provision of an RCD protected power supply to the blower housing;
Installation of a new discharge pipe from the Marsh system to a nearby ditch;
Emptying and filling-in of the existing septic tank, and
Leaving all excavated areas level in preparation for the garden landscaping.
On completion of the ancillary works, Mantair engineers commissioned the Marsh ENsign sewage treatment plant, including setting of air valves, checking all pipe work joints and viewing the final discharge.
If you would like a Mantair engineer to visit you regarding a septic tank inspection in Berkshire or merely require advise on septic tank care, contact us today on 01255 853890.