Tricel Sewage Treatment Plant Problem & Solution
Tricel Sewage Treatment Plant
Off mains drainage solutions can be varied and are mainly determined by the site conditions and applicable regulations. Off mains drainage systems can be in the form of a cesspool, septic tank, septic tank conversion unit or packaged sewage treatment plants.
With many developments in recent times being beyond the reach of 'mains drainage', the number of properties requiring an 'off mains' drainage solution has increased substantially. When an 'off mains' drainage system is the only option then the first choice should always be to install a sewage treatment system. This was highlighted by the DETR report which recommends septic tanks should only be considered if a sewer connection or sewage treatment system cannot be used.
An example of a sewage treatment plant installation is below.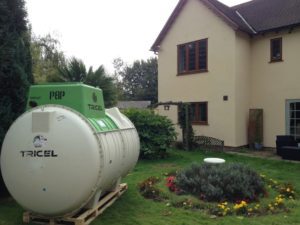 At this property the 'brick' septic tank was struggling to cope with the flow being produced by the household, resulting in the receiving drainage field / soakaway surcharging. It was agreed with the client to replace the failing system with a modern Tricel Novo sewage treatment plant.
Tricel Novo sewage treatment plants are Certified to European Standard EN12566-3. By providing a safe environment for the collection and treatment of waste water, the Tricel Novo system produces a mostly clear, odourless treated effluent suitable for discharge direct to a watercourse or drainage field / soakaway.
With the new Tricel Novo system being installed in a more secluded part of the garden, it was necessary to excavate the existing foul drainage from the property and install new foul drainage to the location of the Tricel system, which included the lifting and reinstatement of a patio.
As with all septic tank and sewage treatment plant installations we execute, the Tricel Novo system was installed with a concrete surround to protect the structural integrity of the tank. An independent RCD protected power supply was installed from the property to the Tricel system, with the relevant NICEIC Certification being obtained.
A new discharge drain was installed and connected to the Tricel system allowing the treated effluent to drain directly into a nearby ditch. The existing septic tank was de-commissioned and in-filled.
Prior to the project being completed the local Building Control officer inspected the works, approved all elements of the project and issued a Building Notice Certificate.
Mantair provides a comprehensive service for all off mains drainage systems, including free site inspections, guidance and advice on the most suitable system for the client's requirements and complete installation
Call our team today to find how we can help you – 01255 853890.