Septic tank experts will often recommend a Mantair septic tank conversion as the best solution for solving various septic tank problems or where the need for sewage treatment is required. Septic tank conversions improve and modernise existing septic tanks into fully functioning sewage treatment systems, without the need for any new underground tanks to be installed. These systems are used where an existing septic tank is either flooding or the wastewater needs to be treated sufficiently to allow discharge to a ditch, stream, or other watercourse.
Why Convert and not Replace?
A septic tank conversion is an extremely cost-effective method of upgrading any polluting septic tank as the system is installed within the existing tank structure, removing the need for any major excavation works or heavy machinery. Getting a new sewage treatment tank in the ground costs substantially more than installing a septic tank conversion; on average converting a septic tank will save between £4,000.00 – £ 8,000.00.
Apart from the financial savings there is also the disturbance and potential damage to established gardens that is averted when opting for converting a septic tank, as opposed to completely replacing the tank. If carried-out by trained professionals, a new sewage treatment tank will typically take a week to install and commission, whereas a septic tank conversion typically takes one-two days, but the impact on a garden when converting a septic tank is kept to an absolute minimum.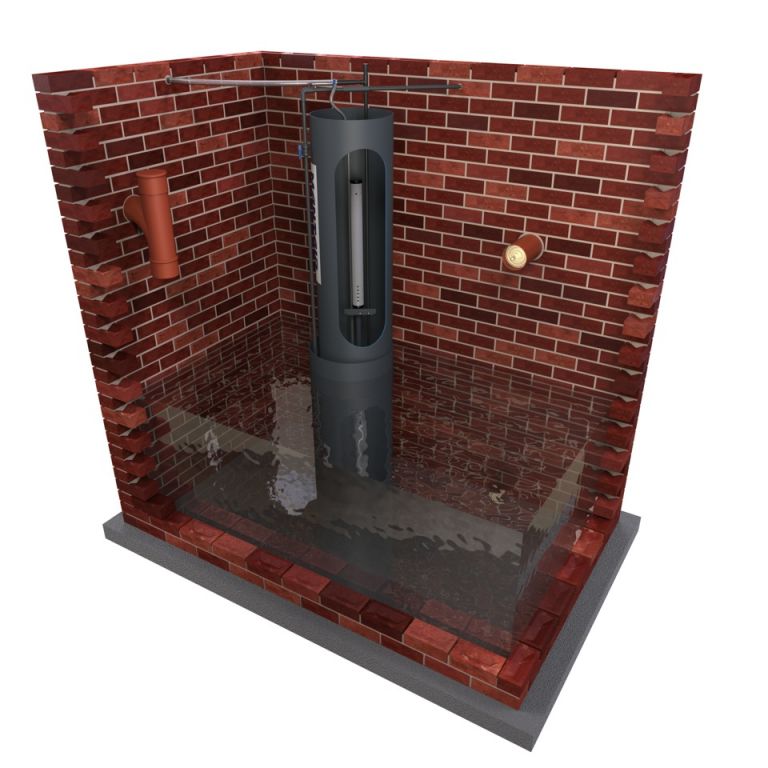 Is a Septic Tank Conversion Legal in the UK?
The short answer is yes, the Mantair septic tank conversion unit is legal! There are a several dishonest companies operating in the UK which claim that 'in tank' conversion units for septic tanks are not legal and state these units do not have the mandatory EN Certification. This is false, and these companies are trying to mislead consumers away from using Mantair septic tank conversion units as they do not have access to sell Mantair products.
At present, there is no European Standard for 'in tank' conversion units and therefore no CE Marking is available. This does not mean that a septic tank conversion is illegal or cannot be used, it merely means that the installation will require an Environmental Permit to be obtained from the Environment Agency. With all septic tank conversion installations we are associated with, we or one of our approved installers, applies and obtains the Environmental Permit on the applicants behalf. Once an Environmental Permit and approval from the local Building Control department has been obtained, the septic tank conversion installation is compliant with the General Binding Rules (GBR) that came into force in January 2015; this being the regulation surrounding the use of septic tanks and small sewage treatment systems.
For over 30 years the Mantair septic tank conversion unit has been recognised by the Environment Agency (EA), formerly the National Rivers Authority (NRA), as a sewage treatment system and authorises its use under Permit Certification, allowing the treated effluent from the system to be discharged directly into natural watercourses legally.
How do I know if my Septic Tank can be Converted?
Although each Mantair septic tank conversion uses the same operating principle, each unit is 'custom-built' to suit the existing tank dimensions. There are minimum tank criteria that need to be met to ensure an existing tank is suitable for 'conversion' – no two conversion units are the same!
Septic tanks use a treatment process called 'anaerobic digestion', whereas sewage treatment systems such as the Mantair septic tank conversion uses an 'aeration' process called 'activated sludge'. The 'anaerobic' process requires more volume than the 'aerobic', therefore if a septic tank has been sized correctly then it should have the volume to allow a septic tank conversion installation.
With each application it is necessary for a tank inspection to be carried-out to ascertain the size of the existing septic tank and its structural condition. All Mantair septic tank conversion units are professionally installed for customers through either our network of trained Licensed Contractors, or our 'in house' Contracts Division. A visit from a trained engineer is free of charge but it is necessary the customer arranges for the tank to be emptied for the inspection.
Mantair septic tank conversion units are not available through wholesale or retail outlets and can only be supplied and installed by either Mantair or an official Licensed Contractor.
Different types of Septic Tank Conversions.
Several years ago, a few 'so called' septic tank conversion units were marketed in 'on-line' shops for a few hundred pounds, claiming to transform septic tanks into fully functioning sewage treatment systems. However, these systems do not 'treat' the receiving sewage correctly and merely aerate the septic tank effluent without any separation of the fine solids, oils, or tissues. Within any correctly designed sewage treatment system it is essential that there is the correct environment to create and maintain aerobic bacteria, but also a settlement zone to allow the treated effluent to separate from fine solids and any floating oils/fats etc.
The Mantair septic tank conversion separates an existing tank into two specific treatment zones. Most of the tank becomes an aeration zone, whereby aerobic bacteria are developed by introducing oxygen into the effluent and as further flow enters the tank effluent is dispersed into the centre of the conversion unit, which is a settlement zone. Within this zone the treated effluent separates using gravity and is then discharges using an 'airlift', which controls the flow through the system.
In situations where the existing tank is not suitable for a Mantair conversion unit there is the possibility of installing an 'after tank' system. Although these products are often marketed as 'septic tank conversions' they do not 'convert' the existing tank but provide treatment after the tank. These systems are installed on the existing septic tanks discharge pipework and use the existing tank as a primary zone to trap most of the organic matter, with the new system treating the effluent overflow from the septic tank. This option can be financially attractive if a Mantair septic tank conversion cannot be fitted and should be less costly than a complete replacement packaged sewage treatment plant.
How much does a Septic Tank Conversion Cost?
It is necessary for a septic tank survey to be conducted to determine the cost of installing a septic tank conversion. Please contact us to arrange a free site survey on 01255 853890 or contact us online.