For septic tank installations and replacements in Norfolk, we provide a complete design, installation and commissioning service.  As leading independent installers for septic tanks and sewage treatment plants throughout Norfolk we are ideally placed to provide homeowners with a septic tank or sewage treatment solution to meet their budget and site requirements.
Septic tanks are commonplace throughout much of Norfolk as the County has many rural hamlets and villages without access to mains drainage, and these areas are reliant on properties having private septic tanks or sewage treatment plants.
Stringent regulations govern the installation of septic tanks and there are several reasons why a septic tank may not be allowed for installation. Should a septic tank installation not be suitable for your property then a Mantair engineer would guide you through the other "off mains" drainage solutions available.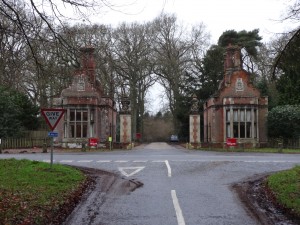 Case Study – Cromer Lodge, Felbrigg, Norfolk.
Whilst surveying several drainage systems at Felbrigg Estate for the National Trust, Mantair engineers identified that the septic tank serving Cromer Lodge was in need of replacement.  The results of the septic tank survey identified the soakaway system connected to the existing septic tank was functioning correctly, allowing the discharged effluent from the septic tank to percolate into the sub strata.
Cromer Lodge is a National Trust Holiday Cottage for persons visiting Norfolk on holiday and as such the variations in flow can alter dependent from high to low seasons.  In view of this and the ground conditions being suitable for a soakaway system, we recommended that a septic tank would be more suitable than a sewage treatment plant.  Sewage treatment plants can be susceptible to variations in flow.
With the soakaway system functioning effectively and the cause of the problem being with the septic tank itself, Mantair engineers recommended that the only remedial works required would be replacing the existing failed septic tank with a modern septic tank.
With Cromer Lodge being a Holiday Cottage it was essential that all works were carried out and completed during a period when no guests were staying at the cottage.  This septic tank installation in Norfolk was carried out and completed over a period of only two days, ensuring no holiday bookings were affected.
Prior to any works commencing Mantair engineers scanned the proposed location of the new septic tank to ensure that no underground services were present.
The septic tank was delivered to Cromer Lodge using one of our delivery vehicles after it had been inspected at our head office in Essex.  All septic tanks and sewage treatment plants we install are inspected prior to approval for delivery.
The scope of the works included:
Exposing the existing foul drainage pipe work and installation of new drainage to the location of the new septic tank system;
Excavation of suitably sized hole in preparation for the installation of the septic tank;
Installation of the septic tank, including for a concrete surround;
Installing a new discharge drain from the septic tank to the existing soakaway system;
Emptying and filling-in of the old septic tank system;
Removal from site of all surplus excavated areas;
Backfilling all excavations and leaving the area neat and tidy.
On completion of the ancillary works Mantair engineers commissioned the septic tank system and removed all machinery from site, leaving the garden in a neat and tidy manner.
For all septic tank problems in Norfolk, whether it's a septic tank flooding and backing up or causing pollution in ditches, call Norfolk's leading experts in septic tank installation and replacements on 01255 853890, or fill out the form below.